NEKTAR
EXPLORING THE IMAGE OF A DIVINE MYTHOLOGICAL BEVERAGE THROUGH ILLUSTRATION AND GEOMETRY

Illustration, Art Direction, Animation

Nektar
Illustration, Art Direction, Animation
I've been a large fan of Supergiant's god-like rouge-like videogame
Hades
ever since I bought it at the start of 2020. Being able to design alcohol packaging has been on my designer bucket list for quite some time as well, so I gave myself a challenge to design an alcohol label for the mythical olympian beverage, Nectar.
I chose to start with a bee and a laurel wreath to allude to both the ecological and mythological relations of nectar.
Fine Lines

I decided pretty early that a custom illustration would give this project a bespoke sense of luxury, and I made it a point to render any drawings with an ethereal sort of softness. The sort of idealized realism you might find in vintage scientific illustrations.

I started right away by finding some stock images of laurel leaves. In order to achieve anatomical accuracy quickly, I outlined the basic contours and veins of every leaf on the image. Once I had a general outline, I focused on rendering a neutral light on the leaves, with some ambient occlusion to bring out their layers and details.

Textures and shadows were all done without an image reference—I opted instead to imagine where a diffuse light would naturally fall from above. Every shadow and stroke was done manually by hand on Procreate.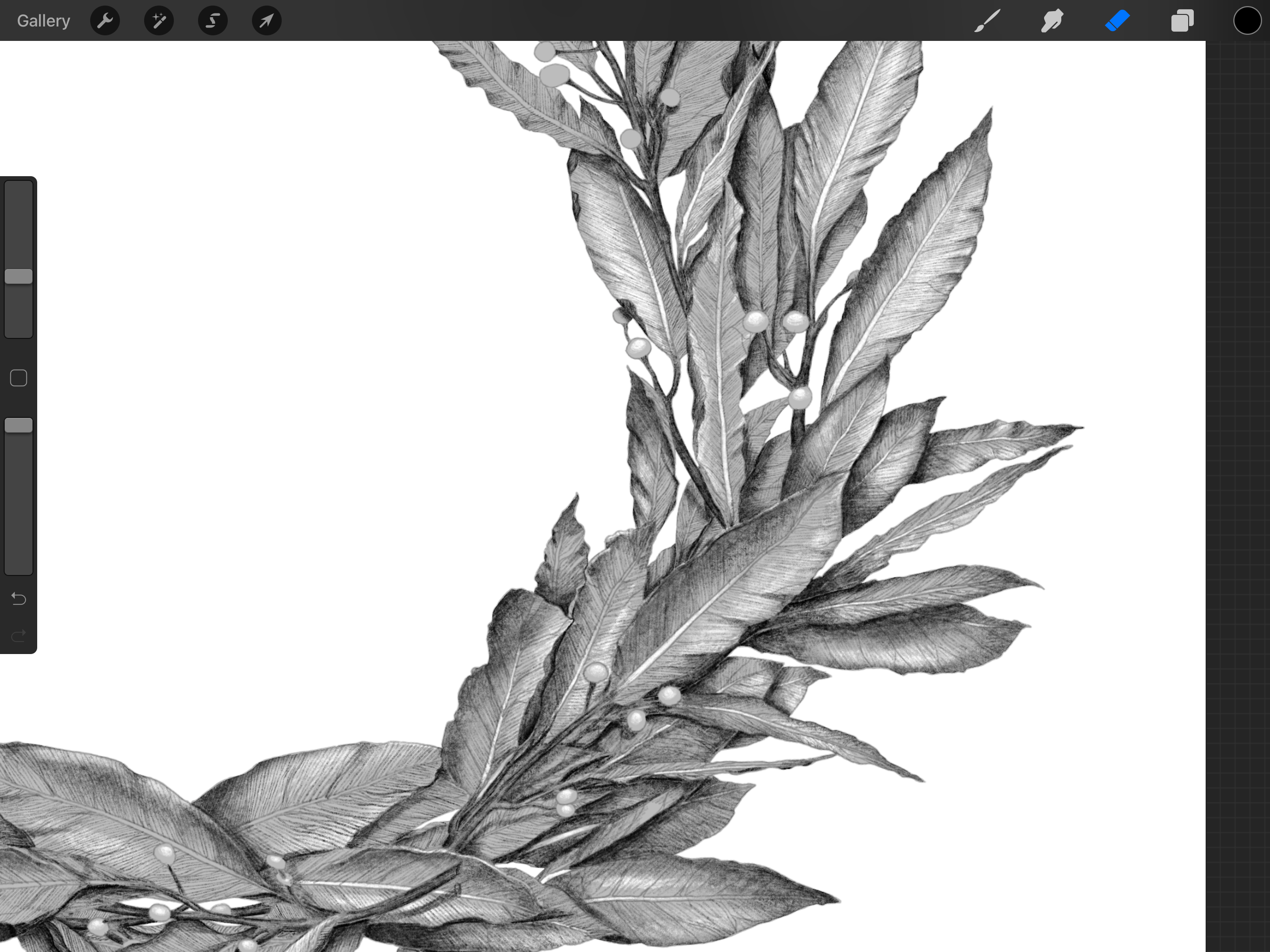 Geometry
The overall feel of the package needed to have a sense of timelessness. This informed my decision to simplify the classic Greek meander into a few geometric decorative lines while still keeping that respect to ornamentation.
The bespoke, hand-made nature of the illustration is emphasized through the contrast to stiff geometric forms that wrap around it.
Nouvelle Vague feels like Bodoni's sassier older sister. The tension between these thin hairline strokes and thick curvy ones creates a simultaneous sense of elegance and arrogance that harmonizes well with the pride of a god.
To Conclude


I'm always fascinated by unique interactions and combinations. Learning how to balance strict graphical elements against ornate illustrations was particularly satisfying, and nothing beats the flow state that comes with careful pencil strokes.